I haven't blog for quite some time now......sorry......=D
One week school holiday is over.....so sad.....it's back to school.....waaaaa.......
So much projects to do!!! SEJARAH: I haven't even try starting to do yet.... so lazy la me....hehe.....i want to copy someone's project!!! let me copy!!! please!!! hah! jk, if only anyone of the seniors could give me their past years project which is title: PERMAINAN TRADISIONAL. then it would be great!!! Yeesh...Why in the world do we have to do projects?! haiz.....
Hmm....what i did in the holidays........
One week holiday was wasted like that. I did NOTHING! I barely touch any of my school books or even the sejarah project. I can't play my PS2 for too long, or not i'll go mad. Was watching Tv like crazy until i got a little sick of it, then. 
I watched finish Alice Academy, which i borrowed from Joyce.
I find that brown hair girl(Hotaru) very annoying. Its comedy, haha. 
Lets see....another week passed.........28.3.09
Hehe....i'm continue-ing.....didn't manage to post last week stuff...... This week in American Idol is Motown. Adam Lambert rocked it! THE BEST PERFORMANCE OF THE NIGHT!!!--Simon Obviosly!!! Adam always give the best performance..... Althought his hair stlye is weird but it sort of suites the theme.....at least the next day, results day, his hair was back to normal. Love you Adam! I wish i could vote for you, i know you can do it Adam!!! I'm counting on you to be the next American Idol!!! LOVE YOU ADAM!!! Can't wait for your album! hahah!!!
~~
So take a good look at my face,You'll see my smile looks out of place,If you look closer, it's easy to trace,The tracks of my tears~~~..... Adam you seriously sang it so beautifully....I LOVE THE SONG.........Me and my dad kept rewinding back to see you perform, seriously!!! LOL! Hehe....continue-ing again.......
NOOOOOO!!!!! I didn't buy BASKIN ROBBINS!!!! NOOOOOOO!!!!!!! WHY!!!!!!!
*CRY* *CRY* *CRY* Darn! Now must wait until May. >:(
APRIL FOOL!!! The whole class got tricked by Pn. Margaret, which we ended up laughing like crazy. LOL! I get tricked easily....swt......
..........more projects are pouring in...............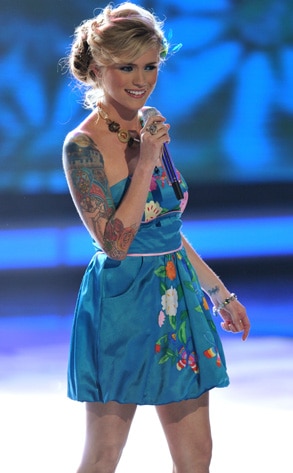 This week, Megan Joy leaves American Idol. Well at least you can go back home to your baby. But anyways, the top 10 gets to go on some summer tour. 
P.P.R WAS A TOTAL FAILURE!!!! I am so sorry la, you guys. Stupid fire would not start. We ended up eating normal, no chocolate marshmellows.......no maggie mee.........FAILURE!!!! Hopefully there is another chance we can do it again. Something bad happen to me today, i got robbed. My expensive marshmellows got stolen with my chocolate and a packet of maggie mee!!! NOOOO!!!! EEEYER!!! SO PISSED OFF LA! Can't start the stupid fire, my stuff got stolen..EEEEEEEEEE
Oh shit, my tummy feel so uncomfortable, must we some random stuff i ate at PPR.......